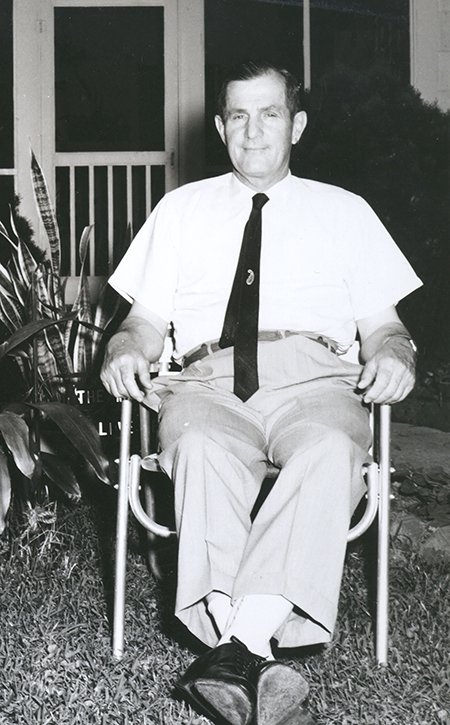 W.M. McKenzie
For decades, the name W. M. "Mac" McKenzie was synonymous with agriculture at Hinds Junior College. Throughout his career at Hinds, from 1930 to 1966, McKenzie promoted the growth and fostered the reputation of the Agriculture Department at Hinds Junior College.
Born in New Augusta, Miss., McKenzie received a bachelor's degree from Mississippi State University where he was a Bulldog football player. He received his master's degree from Peabody College in Nashville, Tenn., where he met his future wife, Mary. In 1941, Mrs. McKenzie began teaching English at Hinds, retiring after 33 years.
In the early years, he was responsible for supervising students with scholarships who tended the vegetable gardens, dairy and cattle. The produce was used in the dining room where students ate.
During World War II, McKenzie served as principal of Raymond Consolidated Schools. He was active in community affairs and admired for his work with underprivileged children in the Raymond area.
He was a member of the Raymond Methodist Church for 47 years. He served as Sunday School superintendent and was a steward in the church.
His dedication to the field of agriculture went beyond the classroom. McKenzie was a loyal member of the local Hinds County Farm Bureau. To area farmers, he was a respected and reliable consultant and friend who helped with their farm problems and vaccinated their animals. To locals, he was an always-available source of horticultural information concerning their home landscaping needs and questions.
McKenzie died in 1978. His contributions to Hinds and the surrounding area were recognized with the naming of W.M. McKenzie Arena in the college's Ted Kendall III Agricultural Complex.
The W.M. McKenzie Memorial Scholarship was established by the Farm Bureau associations of Hinds, Rankin, Warren and Claiborne counties.