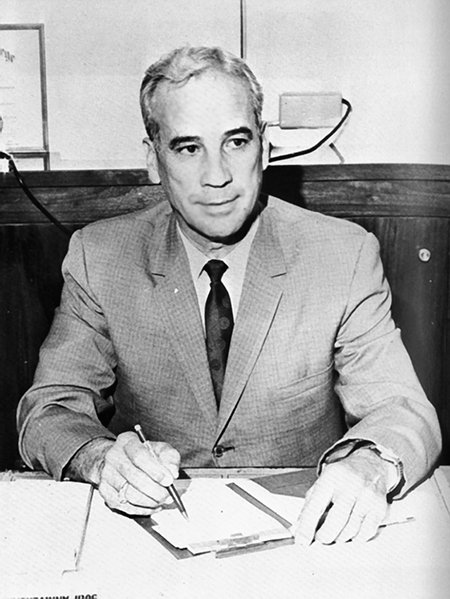 Walter Gibbes
It was during a time when the nation's call to service was being heard loud and clear that Walter H. Gibbes began his own such contribution to the mission of Hinds.
Gibbes, a Learned native, had worked as a student-teacher in commercial work and as a lab assistant at Hinds Junior College, where he entered in 1932 before earning advanced degrees in business and school administration from Mississippi State University and Mississippi College.
After completing his studies at MSU, he returned to Hinds to begin teaching business and office education courses.
In 1941, he became one of three full-time instructors in a program established at Hinds by the National Youth Administration to train skilled workers for the war effort during World War II. The program of study offered was a forerunner to what became the Vocational-Technical Division at Hinds, a program he later coordinated when he returned to Hinds after the war to teach. In the interim, he volunteered for the Air Force and left in 1945 as a major.
As Vo-Tech coordinator, he was responsible for eight programs of study, and for about 300 students taught by six instructors in a one-story brick building. He led the program for 34 years and saw it develop into one of the largest such job training programs in the state.
Gibbes retired in 1980 as the director of Vo-Tech. By then, Vo-Tech at Hinds had blossomed into a division with 45 programs and 300 business and industry courses across all Hinds locations.
When a new headquarters for what's now known as Career-Technical education was built on the Raymond Campus in 1981, it was named Gibbes Hall in his honor. He and his wife have a scholarship, the Walter H. and Henrietta Taylor Gibbes Scholarship, named in their honor.