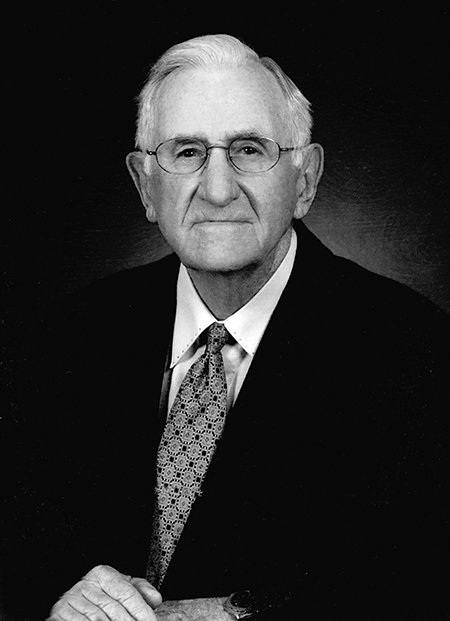 Troy Ricks
Troy Arlis Ricks Sr. was quite an athlete himself before guiding the Hinds men's basketball team to some of its greatest successes for nearly 20 years.
Ricks made an all-tournament team for every such contest he played in during his high school basketball career. He led Sunflower Junior College, now known as Mississippi Delta Community College, to two state championships and the Mississippi Valley Conference Championship. He was the Most Valuable Player for both title runs. From there, he played at Delta State University. He eventually played professionally for the Union Wire Rope before being drafted into the Army. He served with the 32nd Red Arrow Infantry Division in the Philippines, and was honorably discharged with two Purple Hearts and a Bronze Star with Oak Leaves.
His coaching career began at Copiah-Lincoln Community College, where he guided the school to two state titles. It was at Hinds, however, where he made an indelible mark on the legacy of Mississippi community college basketball. He coached the Eagles from 1951 to 1970, including to a state title in 1967. He had eight top-four finishes among state rivals. His final record was an impeccable 496-58.
In 1970, his last year of coaching, Ricks was given the Distinguished Service Award by the Mississippi Association of Coaches. He later earned Sports Hall of Fame status at Hinds Community College, Copiah-Lincoln Community College, Mississippi Delta Community College and Delta State University. He was also inducted into the Mississippi Sports Hall of Fame and the Mississippi Association of Community and Junior Colleges Sports Hall of Fame.
While the winning records and accolades were impressive, Ricks was most proud of the young men he mentored and coached. For many years after their days at Hinds, his players would travel great distances to reunions for Coach Ricks. Their bond was more than the basketball court. As a testament to his coaching legacy, a scholarship was established in his name by a former player. In 2010, the Raymond Campus Wellness Complex was renamed the Troy Arlis Ricks Sr. Wellness Complex. A year later, Ricks was named to the National Junior College Athletic Association Basketball Hall of Fame.