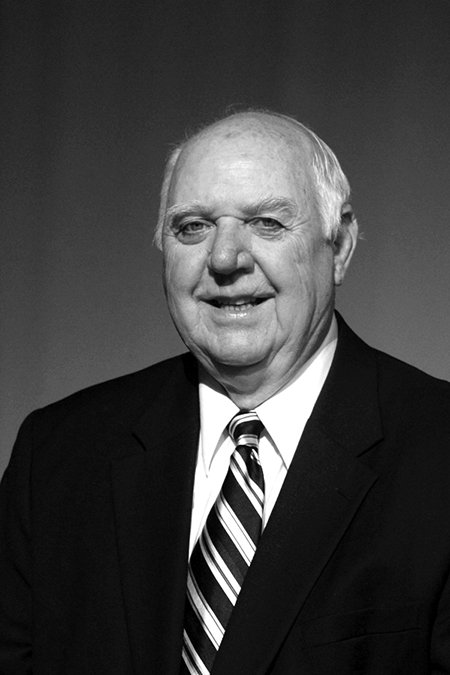 Troy Henderson
Troy Henderson, also referred to as "Mr. H," was known for his Southern hospitality, his eye for beautiful landscape and Hendersonisms, or comical one-liners. Henderson began his time at Hinds Community College in 1979 as the director of Physical Plant and Auxiliary Services and saw the college through much growth until his retirement as the vice president for Physical Plant and Auxiliary Services in 1997.
Responsible for the entire physical plant, Henderson served as the main coordinator for many projects including the Hinds cafeteria, the Hiney Ho Café (the Hiney Ho sandwich was invented by him and his wife, Delores Henderson), the expansion of the college to Rankin County, Eagle Ridge Conference Center, additions to the farm, the bookstore, Eagle Ridge Golf Course and the John Bell Williams Airport.
Henderson was the manager of the master plans for all the Hinds locations and worked constantly to make all campuses functional, beautiful and safe. He felt that an outward appearance was the first indication of a successful institution. He hired the first full-time safety director and published a safety manual and emergency procedure manual for safety in the workplace.
He genuinely cared for people and was known for going above and beyond to help anyone in need. He began a tradition of hosting a golf tournament at the end of each year as an appreciation to "his guys." He loved to entertain people and the more the merrier. He was known for his blueberry pancakes and the annual 4th of July parade that he hosted in his neighborhood for the entire community to enjoy.
Henderson was the president of Mississippi School Plant Managers Association and received the Outstanding Service Award. He was also recognized by his many contributions with the Hinds 3E Award. A scholarship has been established in his name by his family and friends.