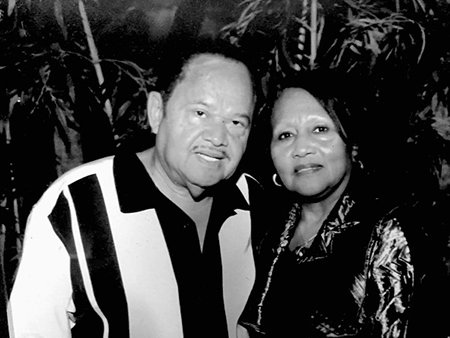 Rosia & Johnny Crisler
Both Rosia Wade and Johnny Crisler were graduates of Utica Junior College and spent their careers working with Hinds students.
Johnny Crisler joined the faculty in 1971 as an economics instructor and was later appointed chair of the Education Department before being named the Dean of Students. For 26 years in that role, he encouraged students to become engaged in their academic work, reminding them that "you must not become so in 'love' with the Union that it becomes your area of specialty," which was his way of telling students not to spend too much time cavorting at the Student Union on campus. He had an open-door policy for all students and made a point to view the student experience holistically.
He took the lead in the recruiting plan to attract students to the rural HBCU campus in Hinds County. He developed strong relationships with high school counselors and was called upon frequently to make presentations at the schools.
Throughout the years, Dean Crisler was also known as the "go-to" person on the Utica Campus. He knew how to get things done and worked well with colleagues from across the Hinds district. For his dedicated efforts, he was recognized as Outstanding and Distinguished Administrative/Non-Teaching Professional of the Year.
Rosia Wade Crisler taught English and French at three campuses during her long tenure. An accomplished actor, writer and singer, Crisler appeared in several films. She was a featured stage actress in productions at New Stage Theatre and was the founding director of the Daughters of Margaret, a dramatic group inspired by the legacy of Margaret Walker Alexander. She was active in promoting the arts in Mississippi as the president of Opera South and through her work with community organizations such as the Greater Jackson Arts Council. Rosia wrote, directed and produced more than 50 theatrical productions during her lifetime.
Elegant with a melodious voice, Rosia was a gracious participant in many college activities. Her genuine interests in students was evident in every interaction.
In an interview with the campus newspaper early in her teaching career, she said, "I will always treasure the experience of returning to my alma mater as a teacher and working alongside some of my mentors. I hope that I have done as much to inspire and motivate my students as my teachers did for me."
Former students attested to her reaching this goal during the wake of her untimely passing in 2014 where many spoke of the influence she had on their own careers in the arts.
Rosia received virtually every award given by the college for excellence in teaching, including Outstanding and Distinguished Academic Instructor of the Year, Life Star and HEADWAE honors. She was also recognized as Alumna of the Year for the Utica Campus in 2010. She was awarded Professor Emeritus of English after her retirement.