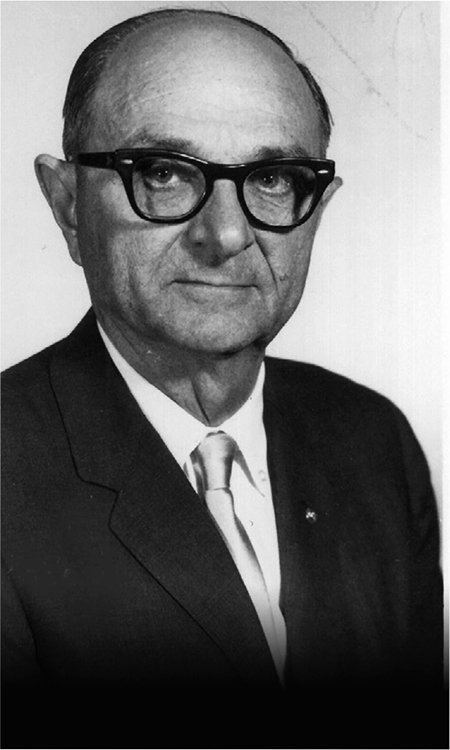 R.E. "Ed" Woolley
Reason Edgar Woolley was the first recipient of the Hinds Junior College Alumni Association Service Award in 1988. Upon receiving the recognition he said, "The Lord has been mighty good to us. I never felt any burden doing what I could for my community, the state and my fellow man."
A keen businessman, he founded Woolley Brothers, an automobile supply and upholstery manufacturer, with his brother Prentiss. He served on the boards of both Hinds and Utica junior colleges and was instrumental in the acquisition of properties for the Jackson and Vicksburg campuses. He frequently traveled the state with Hinds President Dr. Robert Mayo, touting the quality of Mississippi's two-year colleges. Small in stature, but with a wide grin and piercing eyes behind large black-framed glasses, Woolley conducted board meetings in a brisk business style that earned him the appreciation and respect of his fellow board members. Representing Hinds County, he served on the board from 1966 to 1977, including nine years as president.
When his tenure with the board ended, he became a catalyst for the creation of the Hinds Foundation and served as chairman of its board of directors. Through the Foundation, he established an emergency short-term loan program for students caught in financial hardships. With his brothers, Prentiss and Clayton, he deeded property to the Foundation and funded several Foundation scholarships.
And, while his many philanthropic efforts extended far beyond the college, he admitted, "When anyone talks about Hinds, I kinda perk up."
Sheffield-Woolley men's residence hall on the Raymond Campus is named in his honor. The Ed, Mattie and Douglas Woolley Endowed Scholarship continues to receive gifts from Woolley's Trust.