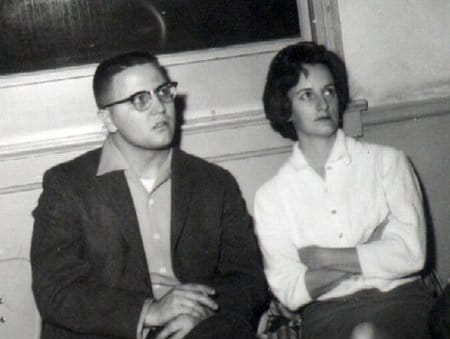 Polly & Michael Rabalais
Like many couples over the years, Polly Harrington and Michael Rabalais met and married at Hinds.
Dr. Michael Rabalais wore many hats through his 36 years at Hinds – "dorm daddy," psychology teacher, instructional development director, academic dean and ultimately, vice president for the Raymond Campus and Jackson Campus-Nursing/Allied Health Center and College–Parallel Programs. A prolific writer, trainer and speaker in education and the health fields, Rabalais considered teaching his passion. During his administrative career, he often professed how he missed the classroom.
Yet, he was dedicated to both. He was a popular presenter, informing and entertaining his audiences and students with a quick wit that earned him the reputation as the "campus comic."
Professional development and recognition of employees were also special interests.
He helped to establish the "Cornerstone Project" with the Hinds Foundation to recognize the dedicated service of employees. He initiated the Mississippi community college Lamplighter Project to bring together distinguished faculty from all over the state for professional development and idea sharing. Though he hailed from Louisiana, he called Hinds and Mississippi home, meeting Polly Harrington when she came as a student in 1958. They were married 39 years.
Polly Rabalais immediately shined as a student, being chosen as "Friendliest" and "Campus Favorite." Athletically gifted and active in sports throughout high school and college, she received her degrees in physical education and returned to Hinds in 1966 to teach. She also coached women's tennis, volleyball and basketball. In 1988, she took over as coach of the Hinds men's golf team, and earned regional and state Coach of the Year honors multiple years. At Hinds, she was named an Outstanding Academic Instructor of the Year and was inducted into the Hinds Sports Hall of Fame in 2004.
Polly Rabalais continued giving to Hinds and her community long after her retirement and Michael's death in 2001. She established an annual golf tournament for youth under 12. She helped with and played in the Hinds Golf Fun Fest every year. After her death, friends and colleagues established the Polly Rabalais Award, a trophy given to the winning team at the annual fundraising tournament.
A scholarship was established in Michael's memory at his death. At Polly's death, friends and family thought it only fitting that her name should be added to the scholarship along with his, much as their lives at Hinds had also been united.