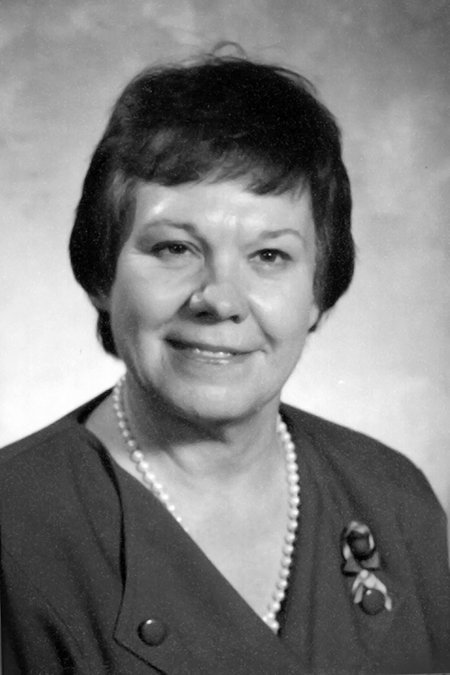 Nell Ann Pickett
William Shakespeare's quote, "Though she be but little, she is fierce," is tailor-made for Dr. Nell Ann Pickett. At barely five feet tall, Pickett could have been easily overlooked if not for the force of her personality, her intellect and her drive. Instead, her name is synonymous with Hinds, and her dedication to and passion for the college are legendary.
Pickett started her college career at Hinds Junior College in 1953 and worked on campus as a student helper in English and history until she graduated in 1955. After furthering her education, she taught at Delta State University until she received the offer to return to Hinds in 1965.
For the next 34½ years, Pickett was a much-respected instructor, a dedicated professional and an icon in both regional and national English organizations. When she and Ann Laster could not find a technical writing textbook that suited them, they wrote their own – "Technical English: Writing, Reading, Speaking," which went through eight editions. After her retirement in 2000, she continued to be a cheerful, positive presence at every event the college held, whether it was a play, a musical performance, a scholarship celebration or a Christmas party, until health issues curtailed her involvement.
Her generosity knew no bounds at the college and in her professional memberships; she funded the Pickett Professional Grant for faculty and endowed numerous scholarships, some in honor of her family members, to benefit students in need. To further support the Hinds faculty, she and Ann Laster dedicated funds to create the Raymond Faculty Mini-Grant program, which promotes professional development.
As a tribute to her service, the college named Pickett Hall ("Old Main") in honor of her and her family, and she was in the first group of four Emeritus Professors, acknowledging her considerable skill as an instructor. Her many accolades include the 1987 Alumnus of the Year, HEADWAE Award, 3E Award and the Outstanding and Distinguished Instructor of the Year recognitions.
Small in stature but huge in heart, Nell Ann Pickett is the epitome of someone passionate about Hinds.