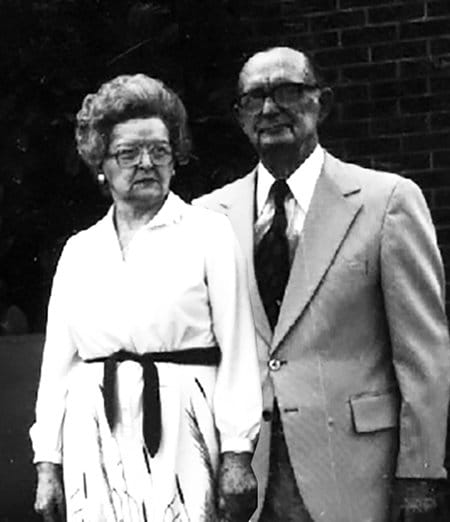 Katherine & A.L. Denton
Both Katherine and A.L. Denton taught at Hinds for many years – and both have buildings named in honor of them. They came to Hinds as a couple in 1935 and retired in the early 1970s.
A.L. wore many hats during his long tenure at Hinds Junior College. Affectionately known as "Zeus" by his friends and colleagues, Denton also enjoyed the respect of students. At various times a teacher, coach, dean of men and counselor, Denton had multiple opportunities to influence students by listening, offering sound advice and encouraging – and he did so in a calm, friendly manner. He was viewed as firm, but kind and soft-spoken.
One memory of A.L. is during football season when he was responsible for getting chaperones to ride with students on the buses. Oftentimes faculty members dodged Denton as he was sure to ask anyone he met on a weekday to chaperone a bus.
A Hinds publication refers to Denton as "a time-tested, true-as-steel man – exactly the ideal for a teacher, father and friend." The long years of service attest to Denton's love and devotion to Hinds. The college honored Denton by naming Denton Hall, formerly known as "the old gym," in his honor. The building currently houses Admissions, Counseling, Housing and Student Services offices.
Students dedicated The Eagle yearbook to A.L. Denton in 1961 and 1968. Considering the turbulent times on college campuses during that period, they had high praise for the man responsible for discipline on campus. These words appeared in the 1968 yearbook dedication: "The sparkle in his eye, the friendly smile, the cordial greeting, his genuine concern for all students, his responsible performance of duty – All that, and more, is our Dean of Students."
Katherine Denton first taught economics at Hinds, 1935-1940, then she established the art department on the Raymond Campus and served as chair of the program until her retirement in 1971. For many years, the art department was in the basement of McLendon Library until it was relocated in the building that is now named in her honor, the Katherine Denton Art Building.
The art department that she created evolved into a thriving program under Bob Dunaway, her successor. "Mrs. Denton was a good teacher, an inspirational type teacher," Dunaway said. The building that bears her name includes the Marie Hull Art Gallery.
In a 1983 Hindsight magazine interview, Katherine Denton said, "My basic philosophy about art has always been that art is for everyone. If they can't create it, they can use other art in a creative way."
The Hinds Foundation awards a scholarship annually in their memory.