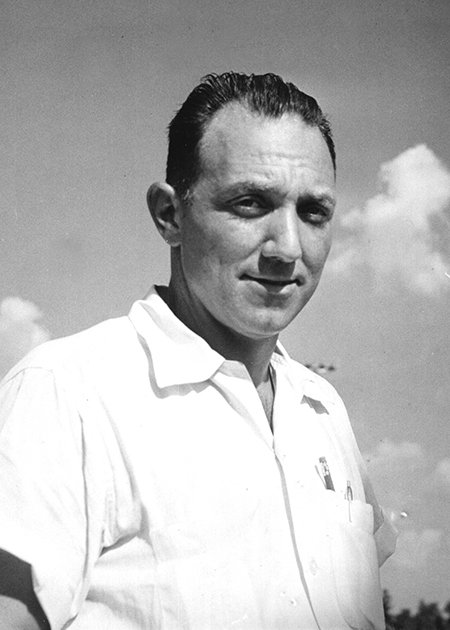 Joe Renfroe
While coaching football at Hinds from 1947-1969, Joe Renfroe became known as "Mr. Football" based on his incredible accomplishments. He not only led the Eagles to state championships and to a Junior Rose Bowl National Championship in 1954, but also produced 10 All-American and six professional football players during his coaching career.
Former Hinds player Earl Leggett, who was a member of that Junior Rose Bowl winning team and NFL player and coach, highly praised Renfroe's coaching abilities as he recalled that players benefited "from his wonderful leadership–spiritually, physically, mentally and morally."
Renfroe's athletic influence at Hinds was more far-reaching than football, however. He became Hinds' athletic director in 1969, filling that position until 1987. Even after serving in that role, Renfroe was not quite ready to leave college. He returned to the classroom to teach physical education courses, and he continued to serve as men's golf coach, which he had already been doing since 1976. To his 1954 Coach of the Year title for football, he added a 1987 title of Golf Coach of the Year. These two sports were not his only successful areas; Renfroe even found time to coach the Hinds baseball team from 1948- 1955, earning four state championships.
Renfroe was a colorful character and a tough coach. He and his wife lived in campus dormitories most of their married life. Stories of "Coach Joe" riding herd on unruly players and residents are legendary. With nearly four decades of service to Hinds, he was deservedly inducted into the Mississippi Sports Hall of Fame, the Hinds Sports Hall of Fame and the Mississippi Association of Community and Junior Colleges Sports Hall of Fame.
The Hinds Foundation awards an athletic scholarship in his name, and the college's football arena demonstrates his legacy as it is aptly named Joe Renfroe Stadium.