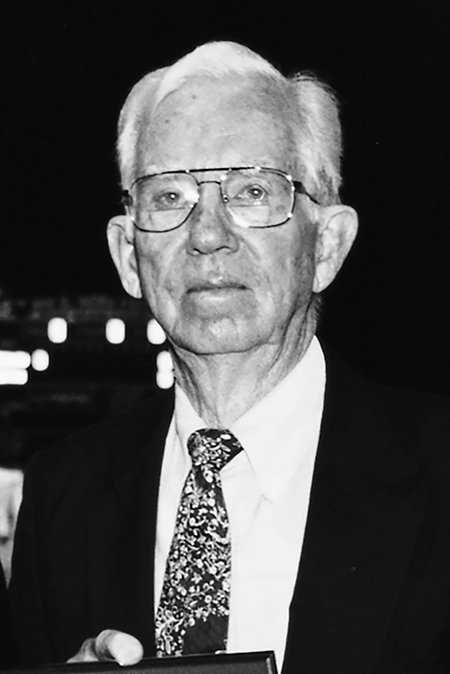 Joe Moss
Judge Joe G. Moss served in the Mississippi House of Representatives for 20 years and as a Chancery Judge for three terms. In addition to these remarkable accomplishments, Hinds fans may remember Moss for his earlier achievements as a Hinds Junior College student.
He led the Eagles to first place in the Middle Mississippi track meet and played first string on both offense and defense for the football team. A three-sport athlete, Moss also played basketball and earned the campus titles of Class Favorite and Mr. Hinds. All of that activity may have attracted the attention of his classmate and future wife, Permelia (Pam) Williams.
He experienced a disruption to his academic career when he left the campus to serve a tour of duty in World War II. After receiving three battle stars and an honorable discharge, Moss returned to Hinds, completing his education and continuing onward to Mississippi State and, later, to Mississippi College to acquire further degrees.
In the House of Representatives, Moss did not forget Hinds as he worked with college presidents to secure legislation that would benefit Mississippi's community colleges. Separate from this assistance, Hinds President Dr. Clyde Muse recalled personal contributions that Moss made to Hinds, noting that Moss often welcomed the college's varsity and intramural teams to play on land that he and his wife owned. Based on his contributions to Hinds, Moss was named the 2004 Hinds Alumnus of the Year. Hinds students, employees and alumni may note another honor bestowed upon Moss as they attend home baseball games: The baseball stadium, Joe G. Moss Field, was dedicated to him in October 1999.
In recognition of his lifelong support of Hinds, the Joe G. Moss Scholarship was established by his children.