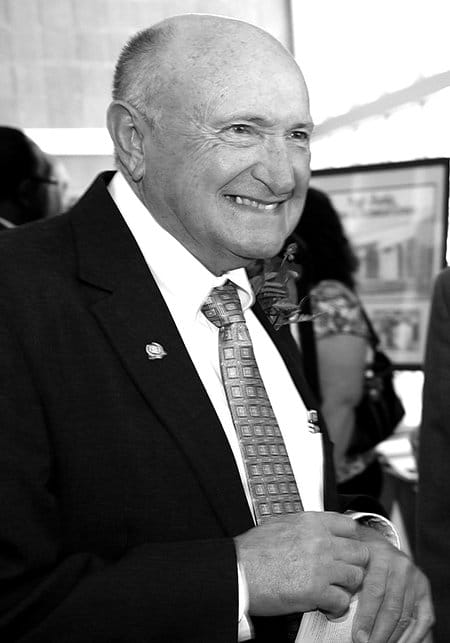 Jimmy C. Smith
Jimmy C. Smith – mastermind extraordinaire – accomplished a wondrous feat on Highway 80 in Pearl. With the backing of Hinds President Dr. Clyde Muse and the Rankin County citizens, in 1982 he took the master plans for the Rankin Campus, and, from a third-hand, two-room trailer equipped with a $50 typewriter from surplus property and an inimitable assistant, Bobbie Jean Thomas, he oversaw the construction of the secondary vocational center, which opened in 1983. Before he retired in 2003, Smith had developed the site into the second largest location of the college – a fully comprehensive two-year college campus with four buildings beyond the original vocational center, now happily named the Jimmy C. Smith Building.
Smith worked long hours and held those who worked with him to the same work ethic. Dr. Wayne Stonecypher, the third employee and occupant of that historic trailer on Airport Road, recalls one of Smith's many famous expressions: "I don't expect you to work but half a day; you can pick the first 12 hours or the second."
Smith's infectious sense of humor was balanced by a serious and generous nature. Stonecypher affirms what many faculty, staff and students experienced with Smith: "He was very generous with me and others; many times I have seen him reach into his own pocket and pay a student's registration fee when he or she did not have the money. Most paid him back, some did not, but he never quit giving." Smith continues to give much of himself to the college.
The college recognized his many contributions with Outstanding and Distinguished Administrator of the Year awards and designation as Vice President Emeritus in 2012. Smith has also served on the Hinds Foundation Board of Directors.