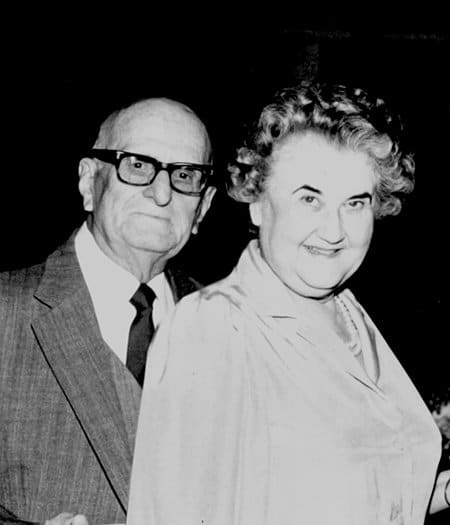 Jim El & Jobie Harris
More than a generation of Hinds students came to know Jim El and J.R. "Jobie" Harris as characters in each of their own unique ways.
For 40 years, Jobie Harris coached and taught with the occasional flair for the dramatic. Harris once summed up his philosophy for teaching history and political science and coaching the football, baseball and track teams this way: "The students had to like you and sometimes all it took was some foolish little anecdote or mannerism, and they would tune into you." He was known to turn on ceiling lights in the classroom by kicking the wall switch in order to get the class' attention, then start his lecture.
Hired in 1930 as athletic director, his respect in the classroom grew along with that of his athletic teams. Zig Ziglar, a student who later became internationally known as a motivational speaker, thought highly enough of him as an influential person in his life that in 1992 he endowed the Coach Jobie and Jim El Byrd Harris Scholarship. Ziglar came to Jackson to present one of his nationally acclaimed seminars and donated the proceeds to the scholarship.
Jim El Byrd Harris came to Hinds in 1946 to teach high school English. She transitioned to college English when veterans of World War II began enrolling at the college. As chair of the English Department, she brought national attention to the role for her work to bring it up to par with similar departments of four-year institutions. She insisted faculty belong to and attend state, regional and national English conferences and workshops. When the National Council of English organized two-year college regionals, Harris was secretary of the original group of officers for the Southeastern Conference on English in the Two-Year College.
He was gregarious, while Jim El was refined in speech and manner. Together, they were firmly committed to the college and its students. In retirement, the couple remained involved with Hinds and were a helpful and delightful resource for information about the college in its early years. A visit to their home in south Jackson was filled with happy memories of time spent at the college.
Jobie was inducted into the Hinds Sports Hall of Fame, and Harris-Patrick Hall on the Raymond Campus was named for them.