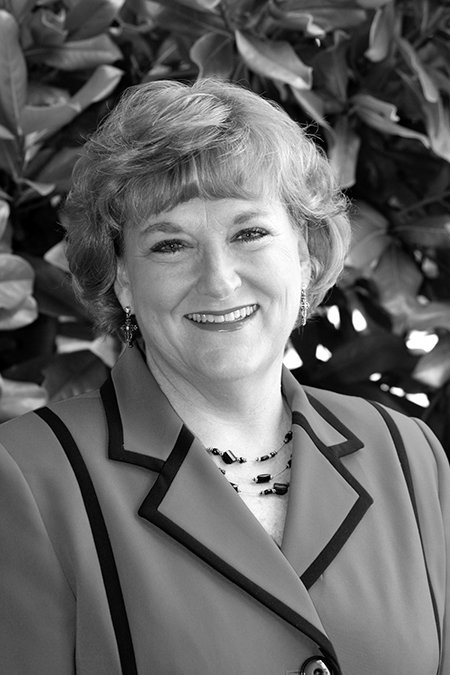 Jackie Mangum Granberry
Hired in 1979 as a counselor, Jackie Mangum Granberry was the first person to hold the title of recruiter when she took charge of building the college's enrollment in 1980. To call her the college's "biggest cheerleader" sounds frivolous because she tackled every challenge and task with firm determination and an arsenal of creative ideas. She spent her entire career promoting Hinds, creating opportunities for students and employees, and building friendships with alumni and the community.
In 1997, Granberry became the first female vice president in Hinds history. She had earned a reputation as "the fixer" and was frequently tapped to tackle problems within the college's complex organization – admissions, financial aid, registration, employee recognition – that were essential to its mission.
She developed a close relationship with President Dr. Clyde Muse and his wife Vashti, who viewed her as an honorary daughter in their family. Early in their Hinds tenure, they asked Granberry to work with Alice Walker in creating a student ambassador group; thus Hinds Connection was created. This perennial student group became an outward reflection of her warm personality, strong work ethic and servant's heart.
In 1987, President Muse asked her to lead the Hinds Foundation. Since that time, Foundation assets have grown to more than $12 million, including $8 million in the Scholarship Endowment. Just shy of 40 years of service at Hinds, Granberry transitioned to executive director of the Hinds Foundation in 2017 to take charge of the college's Centennial celebration. With the college facing difficult financial times, she was tasked with commemorating 100 years at Hinds – without using any college funds. Like countless times before, she rose to the challenge.
Granberry's peers have recognized her deep commitment to Hinds with the 3E Award, Outstanding and Distinguished Administrative/Non-Teaching Professional, Life Star and Hinds Hero recognitions.