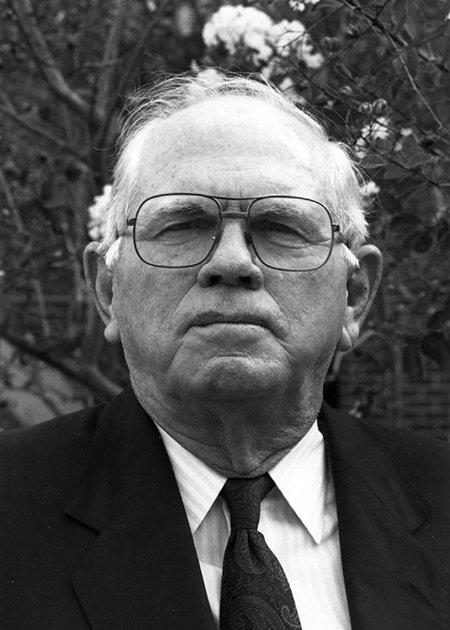 Jack Treloar
Jack C. Treloar Jr. was a respected educator and a cattleman. He succeeded W. M. McKenzie as chair of the agriculture department on the Raymond Campus in 1966, where he remained until his retirement in 1977. He was active in industry organizations such as the Mississippi Cattlemen's Association, Mississippi Farm Bureau and Hinds County Farm Bureau. He also served as the superintendent of the college farm and physical plant, including the Hinds Cold Storage Plant. That facility was one of the college's best and most utilized community services.
While at Hinds, Treloar built a very fine herd of Registered Hereford cattle. Hinds students, as well as Future Farmers of America (FFA) members, used that herd to train for judging contest and other related agriculture activities. Treloar was especially dedicated to expanding the college's relationship with 4-H Extension and FFA programs throughout the state. The Hinds agriculture program flourished because of his efforts and helped to train the next generation of Mississippi farmers. He also worked with local cattle ranches like Ric-A-Bar to help increase laboratory experiences for students. Though he lived in the city limits of Raymond, he leased or owned several plots of land used for his own commercial cattle operation. He was an entrepreneur-minded individual who also built the Pecan Park Apartments in Raymond.
Treloar was a good friend and advisor to others in the agriculture department at Hinds – Billie Banes, Roger Jones, Louis Perkins and Thad Owens. Through the years, the department nurtured and expanded its relationship with the agricultural community and played an important role in the economy of Mississippi. A 1950 graduate of Hinds Agricultural High School, with two degrees from Mississippi State University, Treloar worked to maintain a good relationship with Mississippi State and Alcorn universities where many Hinds graduates continued their agriculture studies.
The present-day agriculture program at Hinds is firmly rooted in the labors of individuals like Treloar.