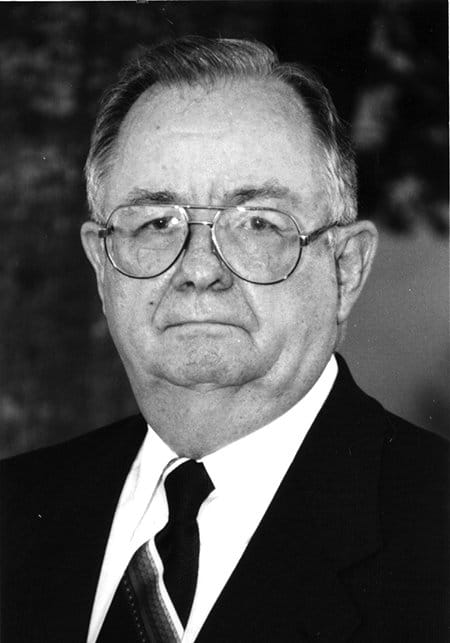 Henry Riser
Known as the "Voice of the Eagles," Henry Atwood Riser was a nonpaid recruiter, sportscaster, college promoter, alumni gatherer and Hinds' No. 1 fan for well more than 70 years.
As the "Voice of the Eagles" for more than 25 years, he delivered play-by-play action with ease and expertise. His distinctive voice was heard by football fans during more than 110 games, all announced without any compensation. However, his love for Hinds athletics dates back much earlier. As a young boy, he attended sporting events at Hinds and that love continued until his death in 2013.
A colleague recalls a former football player who approached Riser and said, "Sir, I don't know you, but I know your voice. Thank you for calling my name. It always made me want to play harder."
A 1950 Hinds graduate, Riser had a distinguished career with the Mississippi National Guard from 1951 to 1992, yet he always found time for Hinds athletics. He served on the Hinds Sports Hall of Fame (SHOF) Selection Committee for 20-plus years. At one time, every member of the SHOF had been nominated or endorsed by Henry Riser.
Each year he reveled in the opportunity to be Master of Ceremonies for the annual SHOF banquet and induction ceremony and often spent hours producing a re-enacted play-by-play audiotape from a real scenario for each inductee.
He served on the executive committee of the Alumni Association and as its vice president for 10 years. He was recognized for his dedication to Hinds by being named Alumni Service Award recipient and being inducted into the Sports Hall of Fame. The Jackson Touchdown Club honored him with its Unsung Hero Award.