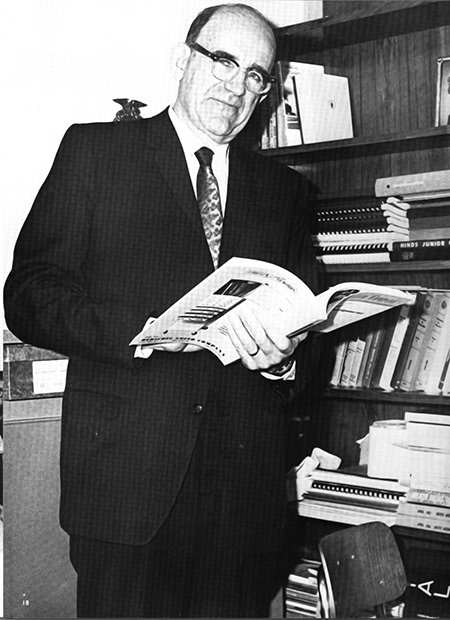 Grady Sheffield
Grady Sheffield's involvement with Hinds Community College began as a student in the late 1930s. From that time forward until his retirement, Sheffield's role at Hinds was one of ardent support.
Never one to seek attention, Sheffield not only quietly supported the college through 40 years of dedicated employment but also supported students through financial and personal contributions.
During the early years of the college, it wasn't unusual for students to arrive in Raymond with little more than the clothes on their back and a brown paper sack of belongings. It fell to Sheffield to find ways to put them to work so they could pay tuition and housing. Through the years, many former students remembered his kindness and would often come back to campus to thank him for his part in their success.
As business manager for many years, Sheffield had the respect of the administration and faculty; the generally held opinion was that he conservatively managed the college's finances as he would manage his own. His business acumen was invaluable as a charter member and past president of the Hinds Community College Development Foundation. In later years, the Foundation honored his service by creating the Grady Sheffield Scholarship.
Sheffield's long years of devotion to Hinds were recognized with the naming of a men's residence hall, Sheffield-Woolley, on the Raymond Campus in his honor.
To some, Sheffield perhaps seemed stern and distant; in truth, he was quiet but friendly with a soft heart and a wry sense of humor. A man of stature physically and professionally, Sheffield spent his professional lifetime focused on Hinds Community College.