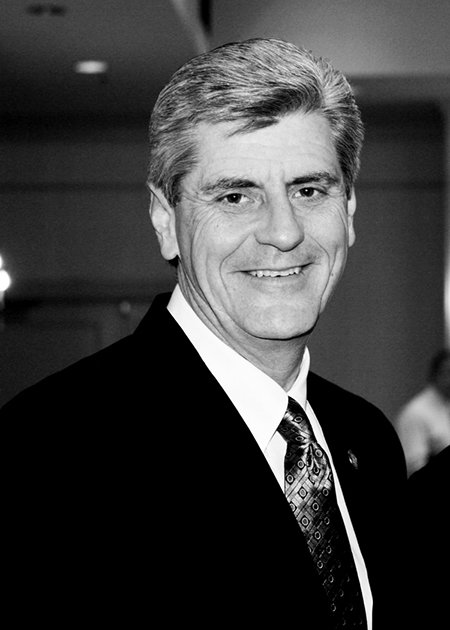 Gov. Phil Bryant
Born to a diesel mechanic father and stay-at-home mother in Sunflower County, Phil Bryant and his family eventually traded in small town life and moved to the big city of Jackson in his late teen years.
Bryant met his wife, the former Deborah Hayes, at Hinds when both were students in the early 1970s. He has said on many occasions in front of many different audiences that he received both "an education and a wife at Hinds Community College."
After finishing Hinds, he was instrumental in starting the Rankin County Alumni Chapter, serving as president, and for years took an active part in Hinds alumni events, including serving as vice president of the Alumni Association. He was named 2000 Alumnus of the Year.
Bryant was a state representative before being appointed state auditor in 1996, elected in 1999 and then re-elected in 2003. From 2008 to 2012, he was lieutenant governor. He was elected governor of Mississippi in 2012 and re-elected in 2015.
"Gov. Bryant has tirelessly advocated for community colleges in their role as workforce training leaders in Mississippi," said Hinds President Dr. Clyde Muse. "We are indebted to him for his recognition of our role, especially that of Hinds Community College in the metro Jackson area."
In 2016, Bryant announced the location of the worldwide corporation Continental Tire to Hinds County. The plant is slated to open in 2019. Hinds Community College will play a major training role instrumental to the success of the plant.
At a 2016 signing ceremony for Hinds' partnership with Empire Truck Sales and Stribling Equipment to create a Diesel Technology Academy, Bryant said the academy provided both job creation and better quality of life for the state.
"Today, the men and women who go through this Diesel Technology Academy will have a bright future," Bryant said. "They will be able to live the American dream."