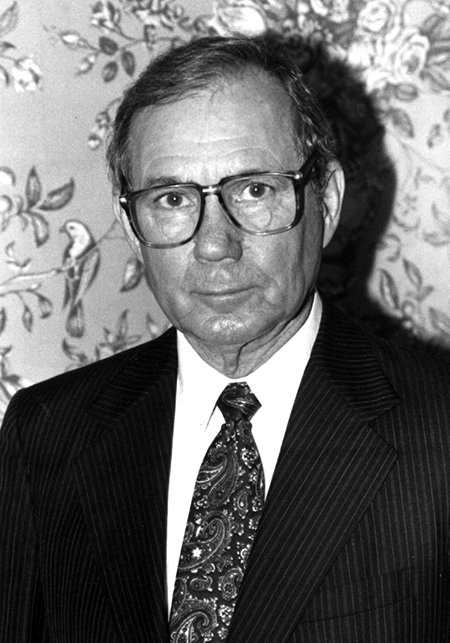 E.E. "Tad" Thrash
A native of Lake, Miss., Dr. Tad Thrash arrived at Hinds Junior College after being honorably discharged from service in World War II. While a student, he competed in different sports, lettering in football, track and boxing. Thrash was also named Mr. Hinds Junior College.
After Hinds, he enrolled at Louisiana State University where he also participated in athletics. When the Tigers won the team National College Athletic Association Championship boxing title in 1949, he earned individual honors as champion in the junior lightweight division. The following year, he repeated as the champion. Also in 1949, he married the former Jessie McLendon, daughter of Hinds' then-president George McLendon, whom he'd met when the two attended Hinds.
Thrash continued his studies while assistant coach and then head coach of LSU's boxing team. He earned a MBA in 1951 and a doctorate in 1963. He was an LSU faculty member and later became director of Alumni Affairs.
In 1968, the couple moved back to Mississippi where he became Executive Secretary and Director of the Board of Trustees of the State Institutions of Higher Learning (IHL). That same year, Thrash was named Hinds Junior College Alumnus of the Year.
He served as Executive Secretary until retiring in 1987 and then became Distinguished Professor of Health Care Economics at the University of Mississippi Medical Center. He was an inaugural inductee in the Hinds Sports Hall of Fame, the Mississippi Association of Community and Junior Colleges Sports Hall of Fame and the LSU Athletic Hall of Fame.
Throughout his lifetime, he gave credit to Hinds for his opportunities, including his pathway to a distinguished academic career. While leading IHL, he was a community college advocate and encouraged collaboration among the eight universities with the community colleges in their districts.