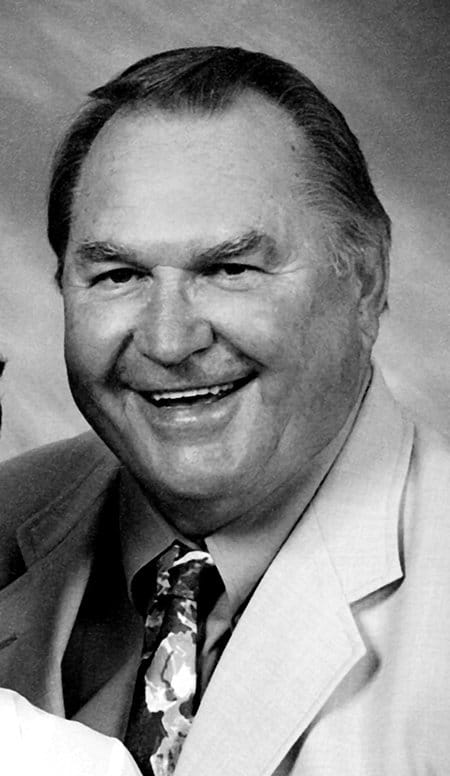 Earl Leggett
Hinds has produced some outstanding athletes, but probably none more so than football player Earl Leggett. A Florida native, Leggett came to Mississippi in 1951 and became a Hinds star. He led Hinds to a 9-0 record in 1954, culminating in its only national championship and a win in the Junior Rose Bowl.
Leggett then became an All-Southeastern Conference performer at Louisiana State University and a 1957 first-round pick of the Chicago Bears. He was part of the famed "Monsters of the Midway" defense that led the Bears to the 1963 NFL championship. Toward the end of his career, he played with the Los Angeles Rams' "Fearsome Foursome" defense and the New Orleans Saints.
He retired in 1970 and became Hinds' head football coach. "The way they'd sit on the bus in those days, the coach sat at the front. When they'd get to the stadium, Earl stepped off the bus and he was such a man that a lot of teams said (Hinds) had the game won right there," Hinds President Dr. Clyde Muse, a longtime friend of Leggett's, said with a laugh. Leggett found his next calling as an assistant, eventually landing in the National Football League. He spent the next 24 years coaching with six different franchises and helped the then-Los Angeles Raiders to victories in Super Bowl XV and XVIII as their defensive line coach.
Leggett died in 2008 at age of 75 in Raymond. NFL Hall of Famer Howie Long spoke of the lessons he learned from Leggett during the Raymond Campus memorial: "He told me, 'If you do what I tell you to, work as hard as you can, I'll make you a household name in every house in America.'"
Leggett applied that same approach to his own life. He was inducted into Sports Halls of Fame for the National Junior College Athletic Association, Mississippi Association for Community and Junior Colleges, Hinds and the Mississippi Sports Hall of Fame. His service to Hinds included serving on the Foundation board. He started the Hinds Athletic Alumni Chapter and served as its president until his death.