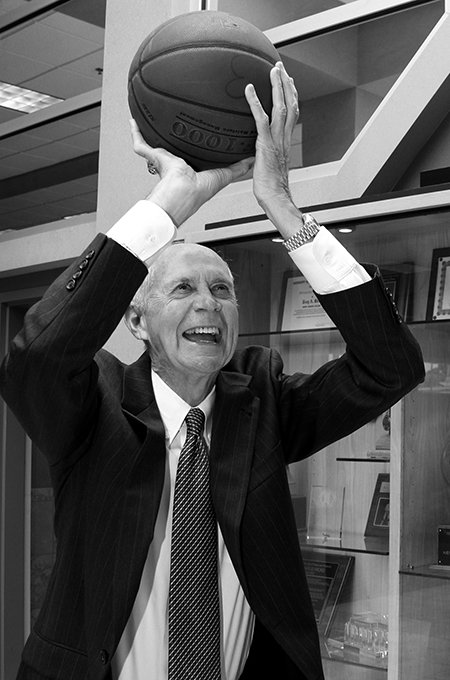 Dean Liles
As trees can give shade and bear fruit, the Liles family legacy is as strong, productive and generous to the mission of Hinds. Dean Liles' contributions continue to help it grow.
A Raymond native, Liles entered college with his athletic bona fides already in place, having lettered in football, basketball and track. Once at Hinds, he lettered in basketball and set the single-game record for points scored, with 51. For many years, Liles hosted team reunions to honor Coach Troy Ricks.
He graduated with honors in 1961. A varied career in business followed after bachelor's and master's degrees over the next 40 years, as he settled in Texas and worked at a number of prestigious companies. He retired from his own business, Dean Liles and Associates, in 2007. Along the way, he was inducted into the Hinds Sports Hall of Fame in 2000.
All five of Liles' brothers and sisters are Hinds graduates, with one brother, Waverly Liles, teaching as an adjunct mathematics instructor years after he graduated. Dean Liles' father, Euell Liles, after ending his farming career, worked at Hinds for several years until his retirement. His aunt, Mary Liles Brown, edited the first Hinds yearbook published; a brother, Bill, and a niece, Masa, are all Hinds graduates.
In 2009, he established the Dean and Rebecca Legg Liles Scholarship, honoring his late wife, also a Hinds graduate. Three years later, he established a second scholarship, Euell and Etoile Liles, named for his parents. Liles hopes the scholarship will be a catalyst for students to earn a senior college degree and start achieving career goals – as was the case with his own family.
He has served on the Hinds Foundation board and was named 2013 Hinds Alumnus of the Year.