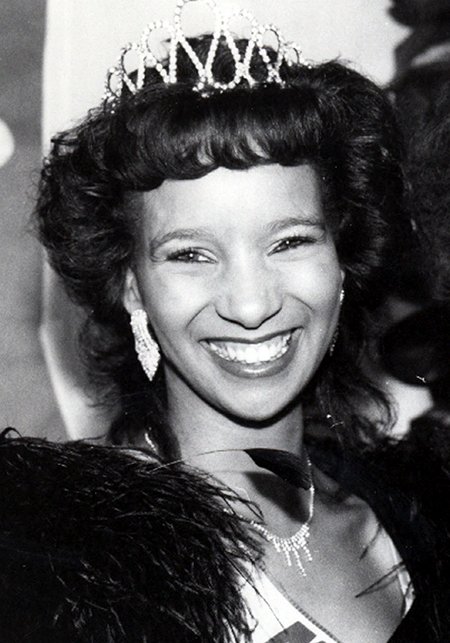 Carla Nicks
Carla Jacobs Nicks arrived on the Raymond Campus with a gentle smile and an elegance that impressed fellow students and faculty. Those traits led to Nicks' selection as the first African-American for the title of Miss Hinds Community College in 1980. With a humble, unassuming manner, Nicks likely would have never entered the pageant except for a dare and a request from her boyfriend, and now husband, Larry Nicks. As first alternate, she became Mrs. Mississippi in 1987 when the winner was named Mrs. World.
"I traveled the country as the first African-American representative for Mrs. Mississippi," Nicks said. "I did benefits at children's hospitals, some modeling for non-profits, concerts and other events as an ambassador for the state."
A poised and eloquent presenter, she has been a popular motivational speaker. Her faith, family and Hinds rank high in her thoughts and life.
She has enjoyed a special friendship with Hinds President Dr. Clyde Muse, speaking at an event honoring him: "I had seen this tall, regal man walking around campus often and watched him from afar as he engaged with other students everywhere he went," Nicks said. "And he never changed his gentle hand toward any of them. It didn't matter the economic condition their life was, where they came from. It didn't even matter the color of their skin. He treated all mankind as our heavenly father looks and treats his children."
In Nicks, Hinds has had a representative who continues to praise Hinds for its role in preparing her for a bright, successful future. At Hinds, Nicks found a nurturing environment, combined with new opportunities under the watchful eyes of the late Anna Cowden Bee, who chose her to be Hi-Stepper.
Nicks has served Hinds in many capacities since her days as a student. She has served on the Foundation board, spoken at college events and judged Miss Hinds pageants. She has also had a distinguished career at UPS.