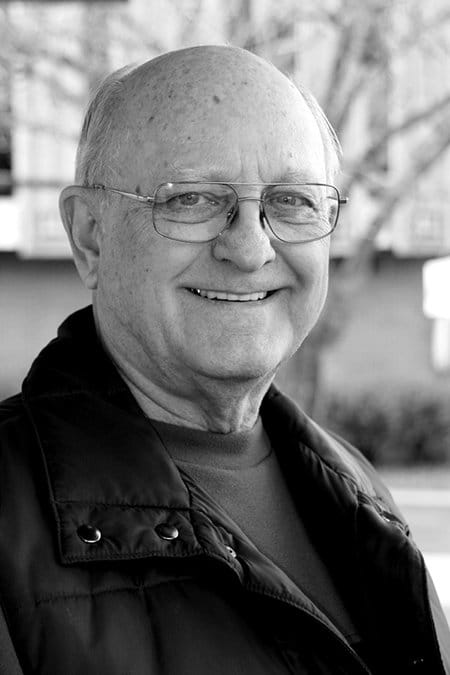 Bob Dunaway
Twenty-plus years after his 1995 retirement from full-time teaching, Bob Dunaway has continued "working" for Hinds. Energetic and enthusiastic, he has generously shared his talents and inspirations with the Hinds family for more than 40 years.
Dunaway came to Hinds in 1971 as chair of the Art Department. One of his first initiatives was the naming of the Marie Hull Art Gallery. In 1973, he organized the collection of original art that was scattered around campus and implemented a system to maintain the ever-growing collection.
He has donated many of his artworks to the Hinds Permanent Art Collection. His beautiful watercolors of Raymond historical buildings are proudly displayed in offices and homes. The intricately crafted paper silhouettes of children and students are a signature Dunaway art piece, treasured by generations of Hinds families. His outdoor sculptures grace campus grounds and buildings, including the Hi-Stepper statue outside Bee Hall. He has painted portraits and created bronze statuettes to honor instructors and dignitaries.
He started the Faculty/Staff Alumni Chapter, which continues to raise scholarship funds for the children and grandchildren of Hinds employees. The chapter created the annual Heritage Fishing Rodeo at Raymond Lake. Each spring, employees, who are Heritage Scholarship members, bring their kids and grandkids for a day of fishing fun and a chance to win a trophy created and donated by Dunaway.
"My success is summed up in the success of the students I have touched over the years. Although I love doing art, the joy of teaching art is what I have lived for," Dunaway said in 2003, when the college honored his service with the naming of the Bob Dunaway Wing in Reeves Hall on the Raymond Campus.
He received the Alumni Association Alumni Volunteer of the Year award and was named Professor Emeritus.