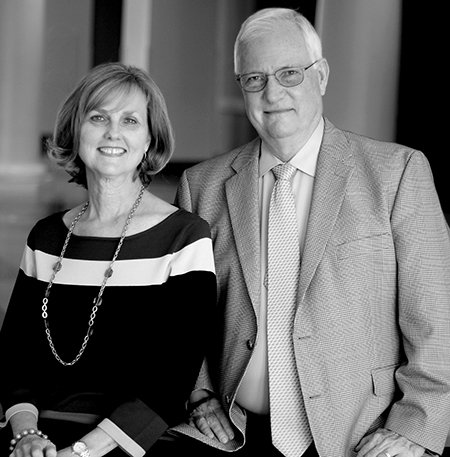 Beverly & Ben Fatheree
Teachers, scholars, writers, performers – all four words apply to Beverly Derden and Ben Fatherree. From waltzing on stage in Louis XIV-period costumes during Mississippi and the Arts Week to more than 70 combined years of teaching at Hinds, the Fatherrees represent the best of the best educators at our college. Anyone privileged enough to have Mrs. Fatherree for English and Dr. Fatherree for history knows that he or she got the finest education that any college had to offer.
In addition to teaching, both have written extensively, with much of it benefitting Hinds. Ben has written the history of Hinds, and Beverly has co-authored/edited the composition textbook, "For Our Students," used at Hinds and many other Mississippi community colleges. Both have published in national, peer-reviewed publications.
They have been recognized by the college with awards for Outstanding and Distinguished Instructors of the Year; both were also HEADWAE instructors. Beverly earned the college's highest award, the 3E.
Their dedication to education and to Hinds extends to their families. On both the Fatherree side and the Derden side, the commitment to Hinds must be genetic. Ben's uncles, T.B. and A.P. Fatherree, established a scholarship in Career-Technical Education. In 1996, Beverly's family endowed a scholarship in memory of her father, Bill Derden, to benefit a nontraditional female student. In addition, in 2014, Ben and Beverly endowed a scholarship to be awarded to a student majoring in education, with first preference going to an English or history major.
Both retired from full-time employment at Hinds, but when called upon to help, they answer the summons with their usual dedication. In fact, both were part of the initial committees to help with Centennial planning. Both also continue to work in adjunct positions in their departments.
Ben has been a key player in the Friends of Raymond, and thanks in part to his work on the 150th anniversary of the Battle of Raymond, windows and walls for miles around the town shook as the entire cannon line was fired on the battlefield during the reenactment. Ben continues to be active with Friends of Raymond to preserve the battlefield.
Beverly's work as national representative to the National Council of Teachers of English and Conference on College Composition and Communication introduced her to one of the most controversial topics in English instruction, dual enrollment. As a result of her work with the national organizations and her depth of knowledge, Beverly informed colleagues at home via TYCAM (Two-Year College English Association of Mississippi) about dual enrollment issues. To honor Beverly's work in this field, TYCAM named one of its major awards after her: the Fatherree Award for Excellence in Dual Enrollment English Instruction. Each year at the convention, an award in her name is given to honor an outstanding dual enrollment English teacher.
These two teachers, scholars, writers and performers have dedicated their lives and talents to Hinds. They are beloved icons who have created a lasting legacy for instructors and students.