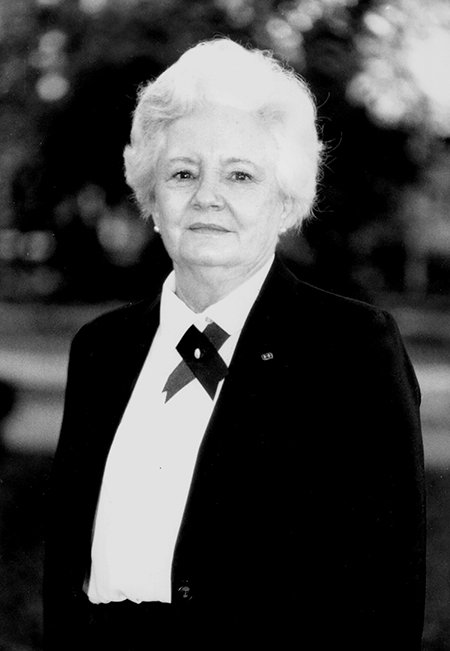 Anne Hardy
Anne Hardy was the epitome of the gentle Southern lady, with her snow-white hair, her sparkling blue eyes and her infectious laugh. So welcoming was her demeanor that Vashti Muse, the first lady of Hinds, always assigned Hardy to be the first greeter for the college Christmas party each year.
When she joined the Hinds Junior College faculty in 1965, Hardy was returning to her alma mater, as she had graduated from Hinds in 1932.
Hardy eventually became chair of the English department and the Division of Communications, Humanities, Fine Arts and Social Sciences, and she was a respected voice in each. A much-loved instructor who was appreciated in many circles, Hardy in 1972 was the first woman to be named Alumnus of the Year. She was also named Phi Theta Kappa Teacher of the Year. Then in 1982, her service to Hinds was recognized when Hardy-Puryear residence hall was given her name. She was known for her generosity of spirit, time and resources, both before and after her tenure at the college.
Perhaps her most lasting legacy was her part in the establishment of the Hinds Community College Foundation in 1979. Sometimes known as the "mother" of the Foundation, Hardy was instrumental in helping with its inception. She continued her support of the Foundation by serving as treasurer first; then in 1988 she was elected board president. After her death in 1997, the Anne C. Hardy Memorial Scholarship was established by her friends and family to continue her legacy and her commitment to education.
Anne Hardy's passion for Hinds encompassed many areas, both professional and personal. She was always willing to serve and to support the college that she loved, and to do so with grace and good humor.