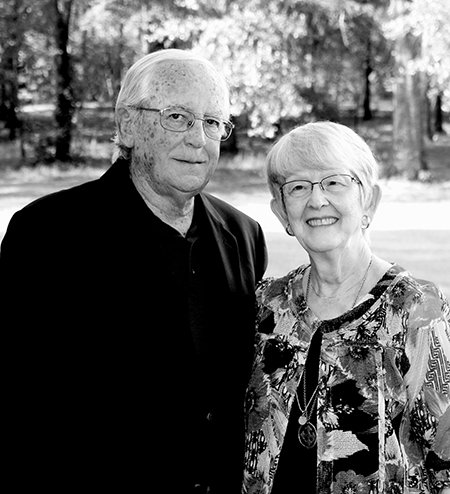 Ann & Bob Laster
Bob Laster's statement, "Hinds did a lot more for me than I ever did for Hinds," is an example of the humble, selfless people who helped to build Hinds Community College into the force that it has become. Ann and Bob Laster certainly typify that statement.
Ann has told the story of how she and Bob would leave their home in Raymond in the wee hours of the morning and drive to the Jackson Campus, where Bob was director, to disarm the sensitive alarm system that had been set off by birds. It happened many times.
Bob was a student at Hinds when his father passed away. His sorrow was compounded by the thought that he needed to take his father's place at home. However, with the help of Hinds instructors and the caring, supportive environment he experienced at the college, he managed to stay enrolled while helping the family. He's repaid that kindness many times over through years of dedicated service.
Ann is another pioneer in the excellence that has been a hallmark of an education from Hinds Community College. In fact, Ann can't leave Hinds. She still teaches for the college at Central Hinds Academy in the Dual Enrollment program. Teaching is her heart, and the list of awards – national, regional and local – shows how deep her commitment is.
From recognition by the Carnegie Foundation as Professor of the Year to receipt of the Cowan Award for Excellence in Teaching from The Two-Year College English Association-Southeast, Ann has a nationwide network of friends and colleagues who honor her commitment. Her involvement in the field of technical writing, however, is legendary. She worked for years as co-director of the Technical Writing Institute and co-wrote with Nell Ann Pickett the best-selling technical writing textbook of all time, "Technical English: Writing, Reading, and Speaking."
Ann served on the Hinds Community College Foundation Board in its early years. Along with Billy Bridges, an attorney and Appeals Court judge, she rewrote the Foundation's by-laws. Jackie Granberry, executive director of the Foundation, said that her work has stood the test of time and served the college very well. Ann received the 3E Award and was named Professor Emeritus of English after she retired.
While Ann taught, Bob helped to build the Hinds we know today. As director of the Jackson Branch, now known as Jackson Campus-Academic/Technical Center, Bob started new programs in hotel/motel management, dental assisting and LPN training. Not only did he work as an administrator, but Bob also taught mechanical technology and engineering graphics, courtesy of his degrees from Mississippi State. He also pioneered a close working partnership with industry to develop programs to fit their employees' needs – a mainstay of Hinds in its 100th year.