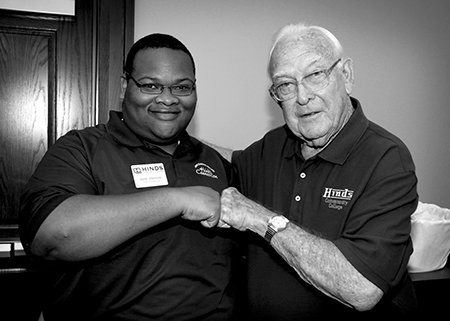 Albert Gore
Dr. Albert Gore's Hinds story resembles an epic movie – starting in the college's unpaved, dusty beginnings and spanning the decades through each triumph for the nation and the college itself.
Gore arrived with his brother, Granville, as students in 1938 with $5 and his belongings in a paper sack. They went to work on the college farm to earn room and board, as did scores of students in those days. He was a standout student-athlete, captaining the football team and excelling at track, basketball and boxing. His most important accomplishment, he once said, was meeting his wife Marianna.
He graduated in 1940, then attended Mississippi College. Like legions of men of his generation, he left school to join the Army during World War II, where he was a company commander in the Pacific Theater. After the war, he returned to MC to earn a bachelor's degree in chemistry, then received a medical degree from Tulane University in 1951.
Over 36 years, he ran a family medical practice and was chief of staff of Hinds General Hospital before directing hospitals in Alabama and Texas. In between, he returned to the Army, in 1966, and served as a colonel in the Medical Corps for 14 years before retiring from the Army as a brigadier general. His retirement from medical practice came in 1987.
Following retirement, he became a member of the Hinds Athletic Alumni Chapter and served on the Foundation Board. He was named 2006 Alumnus of the Year and was inducted into three different Sports Halls of Fame, including Hinds, Mississippi College and Mississippi Association of Community and Junior Colleges.
In 2005, in a show of love to both his loves in life, he endowed a scholarship in his wife's name as an anniversary gift. He played in the Golf Fun Fest until he turned 94 years old.